_ARCHIV
Where is Cantaloupe Island
Beatrix Curran, Rosa Joly, Finn Juhl, Jean Painlevé, Mads Westrup

The Waves #3
27. - 29. Mai 2014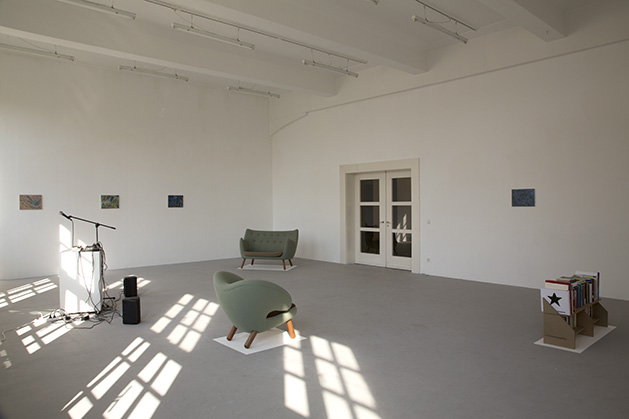 Photos: Julia Knabbe
Listen to a recording of Beatrix Curran's Lieder recital, which she performed at the opening
The group show Where Is Cantaloupe Island turns around and blinks at the readymade; as on the one hand a variation upon a repetition of naturalized forms and concepts, on the other hand as subject-matter, which takes on a certain value due to the intuitive energy implied in the artist's selection and placement of it in the art space.
Beatrix Curran
(*1988, Sydney) lives and works in Vienna. She studied at Sydney College of the Arts and is currently a student at the Akademie der bildenden Künste Wien.
Recent exhibitions and concerts include
Battle-ax
, Celeste, Wien, 2014 /
Bubble and Squeak
, Büro Weltausstellung, Wien 2014 /
Notes II (travelling carpet)
, Ve.Sch, Wien 2014 /
Maria Giovanna Drago/Beatrix Curran
, U1 Vorgartenstrasse, Wien 2013.
Rosa Joly
(*1986, Luçon (FR)) lives and works in Hamburg and Paris. She is MFA from the École Nationale Supérieure des Beaux-Arts de Lyon and an MFA student at the Hochschule für bildende Künste Hamburg.
Recent and upcoming exhibitions include
Prousts Fragebogen
, Elektrohaus Hamburg 2014 /
Les Méprises
, Lycée François Villon, Paris 2013 /
Ode to Ophelia
, Les Subsistances, Lyon 2013.
Mads Westrup
(*1984, Rødovre (DK)) lives and works in Vienna and is a student at the Akademie der bildenden Künste Wien.
Recent solo exhibitions include
Sketches and Ballads for an openly aware Europe
, peinture et sculpture, Copenhagen 2013 /
Kunst und Übung in expanded Bildraum
, IMO, Copenhagen 2013 /
Two Gb's
w. Kris Lemsalu, HHDM, Vienna 2012 /
Pants on Fire
w. Nazim Unal Yilmaz, Ve.Sch., Vienna 2011.
Finn Juhl
(1912-1989) was a Danish architect as well as interior and industrial designer.
His work has received great acclaim in Denmark and beyond, in particular for its organic and sculptural vocabulary and for its distinct feel for the material's inherent qualities; the latter resulted in groundbreaking collaborations with craftsmen in the development of a.o. methods and techniques for the production of teak furniture. Several of Finn Juhl's furniture pieces are represented in museums and still in production internationally.
Jean Painlevé
(1902-1989) was a French film director and biologist specialized in the underwater fauna, particularly known for his pioneer contributions to the 'fiction scientifique'.
He collaborated with the monthly revue Surrealisme in the early 1920s before turning to film in 1925. Painlevé later initiated the Institut de cinématographie scientifique in Paris—before this genre was generally viewed as a serious topic by art and science—and continued to direct more than two hundred science and nature films throughout his six-decade career.